THE 8 HABITS OF HIGHLY EFFECTIVE PEOPLE
The eight habits of highly effective people is a dynamic life-changing educational and coaching process, based on the content of the best-selling books, with the same title, (The 7 habits of highly effective people and The 8th habit of highly effective people), written by Stephen R. Covey, and summarized, illustrated and presented by Chris Abbey.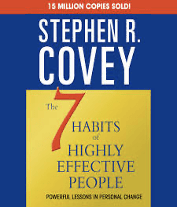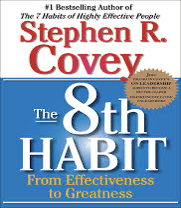 The eight habits will help you initiate a long-term process of increased productivity and improved effectiveness. This process will help you:
Plan and execute priorities
Reduce stress, external pressure and burnout
Improve communication skills
Develop leadership abilities and people skills
Improve personal and professional productivity
Apply the value of success and the psychology of winning to your life
THE 8 HABITS OF HIGHLY EFFECTIVE PEOPLE:
1. Be Proactive
Proactive people carry their own weather with them — whether it rains or shines makes NO difference to them. Their honor, values, principles, commitment and dedication are much greater than their moods:
2. Begin with the end in Mind
We are more in need of a vision, a mission statement, a credo or a destination and a compass and less in need of a map or direction. Leaders and field generals create their own destiny by following their internal compass and their internal "gut feeling" or intuition. They make life (personal and professional) a mission, NOT just a passing or career. Do things by design, NOT by accident. Execute every spoken word with an "end result" in mind:
3. Put First Things First
The key is NOT to JUST prioritize your schedule, but to rather schedule your priorities and stay focused and disciplined to execute against them steadily and consistently.
Do the important things first –because where you are headed as well as the CLEAR direction that you are taking is far MORE important than how fast you are going and when will you get there:
AFTER THE THIRD HABIT, YOU WILL ATTAIN INDEPENDENCE
PARADIGMS OF INTERDEPENDENCE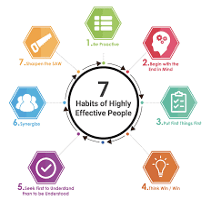 Habit four through seven:
There can be no relationship without confidence, and no confidence without integrity
4. Think Win/Win
Win-Win is a belief in the "Third Alternative". It is a paradigm shift (a new and fresh way of thinking) and a whole new way in dealing with people. It is NOT your way or my way; it is a BETTER way! It is a much higher way. We need NOT only do the right thing, but rather what is right for business, locally and globally:
5. Seek First To Understand, Then To Be Understood
This is, by far, the most challenging habit to master and the most powerful, as we tend to be mostly self-centered.
The key to clear understanding is listening well, listening with our eyes, our mind, our soul and our heart.
When you speak, speak long and well as you "serve, support and coach" others to the road of success and the vision of higher learning:
6. Synergize
There is synergy in the aspen grove! The trees are connected by a system of roots; each tree draws strength and balance from the others. The grove is MORE than the sum of its individual parts –one plus one equals three or MORE. Synergize your life and business so you can have your own aspen grove:
RENEWAL
7. Sharpen The Saw
Renew, develop, evaluate, assess, energize, polish, refine and enhance the GREATEST asset you have –YOU:
The Renewal comes in four (A-D) dimensions:
UPWARD SPIRAL
AFTER THE SEVENTH HABIT YOU WILL ATTAIN INTERDEPENDENCE
8. Inner Self Growth & Development
Renew, develop, evaluate, assess, energize, polish, refine and enhance the GREATEST asset you have –YOU:
INSIDE-OUT AGAIN!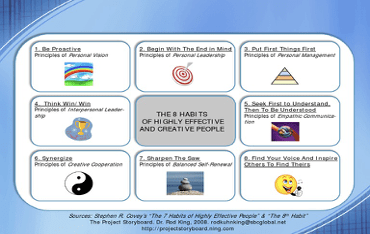 From the Business Management Library of Chris Abbey